Our Amazing Teacher Mr. Law
By Marley He & Levi Liu 
Mr. Law joined the LWBC family in 2019 at the beginning of the school year. He was a solid teacher and he taught us English and Social Studies. He aimed to devote himself to this cause as early as grade 4, when he immigrated and got educated in Canada by several amazing teachers. They encouraged, inspired, and motivated him to overcome his language barriers and develop a growth mindset. As a way to show his appreciation, Mr. Law set his goal to carry on this legacy by giving back to the system.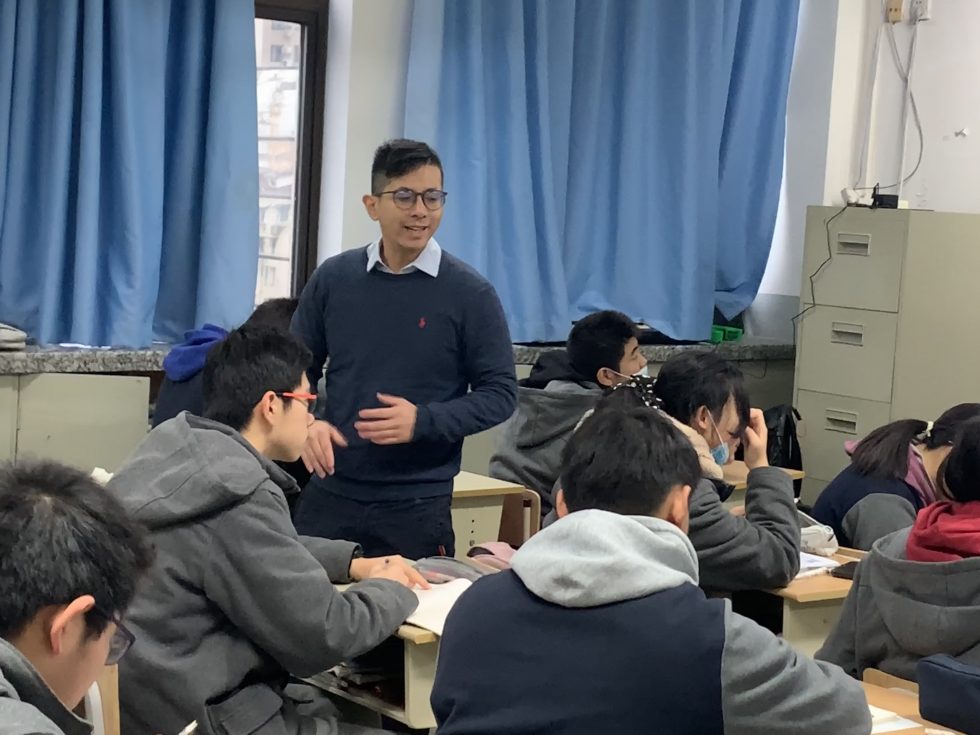 Mr. Law provides his students with safe, caring and inclusive educational support. Since we're beginners in learning a second language, it is hard to get rid of our native language system and adapt ourselves to new patterns. Mr. Law helps us with practical skills as well as academic writing. He corrects us in-time and offers specialized practice for our general problems. From results in report card and easiness in daily communication, we managed to see profound improvements made through his experience in education.
Mr. Law also values cultural studies and the interests of English learners. Besides academic writing, he taught us to analyze creative writings, poems and other reading materials. We brainstormed and organized ideas into stories; we learned about how literary devices are used and their effects; we looked at different elements in stories and understood the theme. Mr. Law's aim as a teacher is more than providing academic English courses; he uncovers its rich culture and leads us to explore it.
Meanwhile, Mr. Law is passionate about his life as much as his work. He is excellent in music and can even sing Cantonese songs, play the saxophone and the piano. He is the sponsor of our Music Club and organizes performances to demonstrate their talents and enrich our learning environment. For the upcoming Christmas show especially, they prepared three pieces of music and we are all looking forward to hearing them.
To get a better start in the new semester, Mr. Law sent his note to us. "We can rejoice, too when we run into problems and trials, for we know that they help us develop endurance. And endurance develops strength of character, and character strengthens our confident hope to the future. And this hope will not lead to disappointment." I am a firm believer in this quote because it can be applied to our learning. "Likewise, students should constantly challenge themselves to go beyond their comfort zone. Through constant exposure and immersion, with enough input and practice, students will internalize the language and become masters of English." With such a great teacher and inspiring message, together, we can achieve better academic performances, deeper understanding of English and closer collaboration.
Meet  Our Teacher Mr. Lee
By G10 Christina and Martina,G11 Stella
Time flies. Half of this semester has passed. In order to let students know more about Mr. Lee, the members of the newsletter club conducted an online interview. Let us have a look! 
Essential Information
Name: Serge Lee
Graduated from: The University of Calgary
Undergraduate major: English, Education
Hobbies: Reading, learning Chinese
Teaching Features: Diverse and interesting classes for students to learn through practice.
Future Plans and Goals: To build good relationships with students and teach them how to grow into proper adults, and to never stop learning to become the best teacher he can possibly be.
The 2020-2021 academic year will be the first year for Mr. Lee to join our BCOS family. Although this is Mr. Lee's first year here, he is already well liked by his students for his colorful and interesting classes. At the same time, this is also his first year in China. He has a special interest in Chinese traditional culture, and he has long planned to come to China for professional development. If you want to ask why Mr. Lee became a teacher in the first place, you have to start from his school days: he volunteered as an adult ESL teacher in Canada and found that he loved teaching. Of course, we believe that he must also like us outstanding students to have a full vision of this career. He reads a lot in his spare time and tries hard to learn Chinese by himself. Although he often meets difficulties in the process of learning, he does not give up. This is because he loves China, and Jiaxing: a city with a long history and a quaint taste; a city where both his lovely students and colleagues who work together and encourage him are. At the same time, he also has a clear goal for himself, that is, to be a teacher who never stops learning, tries new things, and faces up to his mistakes and learns from them, which is also part of how he defines being a good teacher. In addition, he believes that trust between teachers and students is indispensable to a good classroom because if teachers and students cannot work together then the students cannot really learn.
This year he is serving the Career Life Learning teacher in grade 10, as well as the teacher of Composition 11 and New Media 12, and he also leads the Entrepreneurship Club. He united our hearts, taught us some truths about life, helped us set sail on the ocean of life, and teaches us how to be adults. To provide us with higher quality teaching, he decided to strive to be the best teacher in our school! Finally, Mr. Lee wants to say to all of us: "Get out of your comfort zone and don't be afraid to fail. Everyone fails at some point in their life, and what we choose to do next is the most important thing. Do we choose to let our failures bring us down, or do we choose to learn from them and come out stronger? I hope that all of my students will learn, in our short time together, how to see failure as a strength." Students! Let us work together, with the teacher's expectations, gradually towards a better future! 
Get to Know Mr.Chang
With the start of the new semester, five new teachers were into the NBC community. One of them is Mr. Chang, who is currently teaching AP Calculus, AB 12 and Entrepreneurship and Marketing 10. Mr. Chang is an experienced math teacher. In his previous school, he taught Precalculus 11 & 12, Calculus 12, AP Calculus, and Art of Living. He chose Nanmo for several reasons. In the first place, the location is ideal as Nanmo is located in Shanghai. He used to live in Suzhou, which is close to Shanghai. As a result, he often came to visit Shanghai. In addition, he knows some people here. For instance, Mr. Chen, who was one of the earliest teachers in his previous school, is his mentor. He also knows Mr. Dyck and Mr. Schwartz. While living in Shanghai, he can be involved in many activities, and transportation here is very convenient. "I used to be in the countryside," said Mr. Chang. "It is simple to get things here."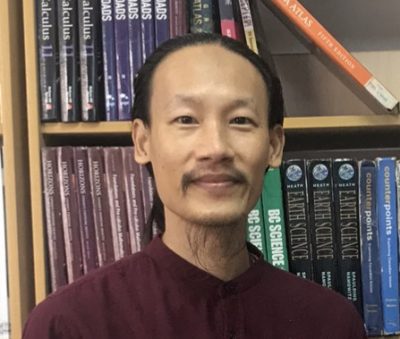 Mr. Chang is also passionate about yoga. In fact, he has been to India for 5 months and learned how to teach yoga. During those 5 months, he took courses to become a classical hatha yoga teacher. Apart from that, Mr. Chang is also interested in whole foods, which are non-processed food, and vegetarian food. Over the past 3 months, he feels that the Nanmo community is very positive. He enjoys the teachers and students here, especially the grade 10 students since they are very enthusiastic about learning. In addition, the school's Chinese teachers and Canadian teachers are cooperating efficiently to create a better school community. Overall, he enjoys being part of the vibrant NBC community.