Gr. 10 – Hazly Li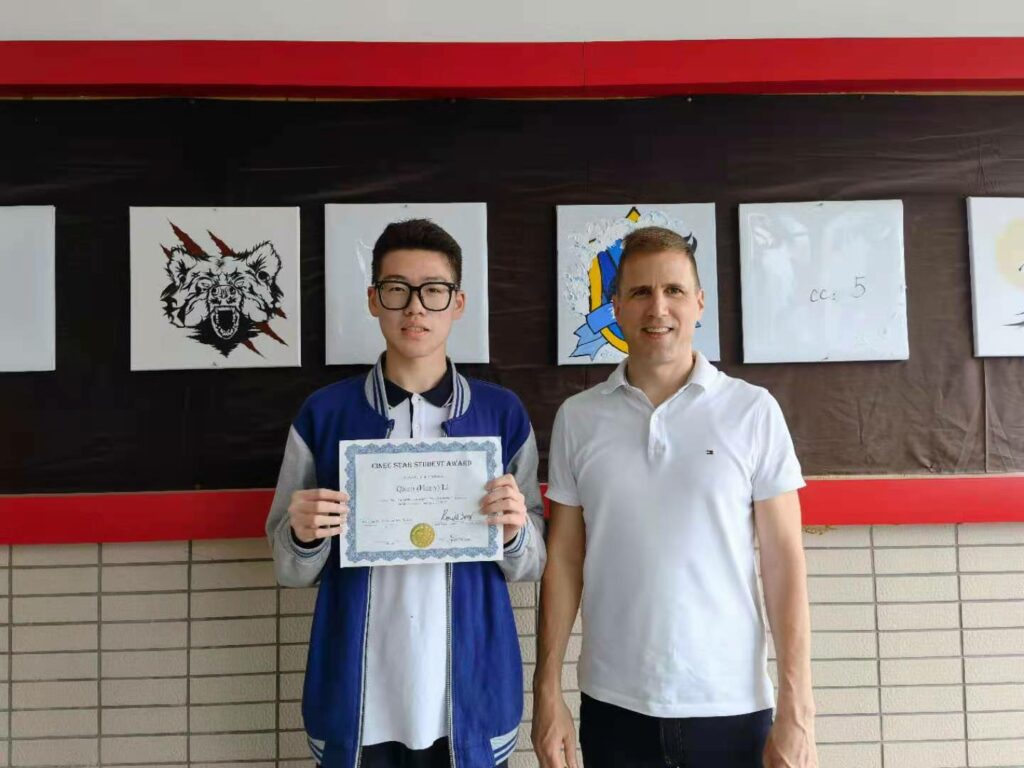 Hazly is an easygoing and kind boy, he gets on well with his classmates. As the vice monitor in grade10, he is always trying to help his classmates when they are in trouble.
As for his studies, Hazly has improved a lot each semester. He has contributed a lot to going from the mid-level grades in his class at the start of the school year to the top of his class at the end.
At the same time, he has achieved great success in other areas as well. He always loves basketball, and always demonstrates active participation in every house team event. Moreover, he volunteered in many community activities during the holidays and even went to the mountains to help poor children.
Gr. 11 – Queena Ye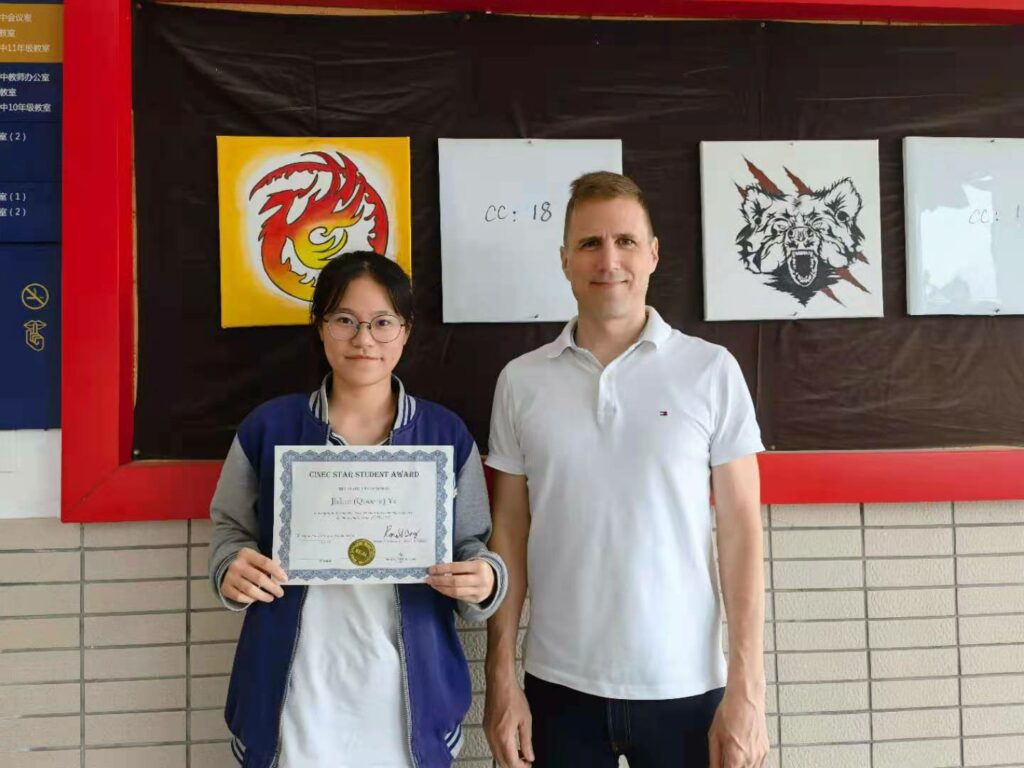 Queena is a confident, optimistic girl. During the more than a year since entering high school, we have all witnessed her growth with our own eyes.
Queena is a leader with a sense of cooperative teamwork. She is the head of the dormitory for six people, the life committee member of the class, and a member of the logistics department of the student union. She will always carry out her duties with a passion for her community. She is always carefully helping her community. She actively participates in House Events every month and is never absent. At the same time, she also encourages people in her house team to actively participate in sports activities. She will take the initiative to assume the responsibility as a leader. When working in a group, everyone especially wants to be with her because she has good leadership and organizational skills. She will take the initiative in arranging every task that is suitable for the team members and will not make the team members feel oppressive. She will also discover the strengths of each team member and help them shine in their field.
Queena is also a versatile girl. Every semester, she is on the Honor Roll. In the CSW Art Festival competition, she won the second prize in the singing category. She has also been to Korea to participate in piano competitions and won a silver medal. On weekends, she goes to play badminton and sings together with her classmates. Although she has never studied painting, painting has always been an art she likes very much. She also signed up to participate in the drawing competition of the Science and Technology Festival and won the second prize. She is a person who likes to challenge herself. She always tries things she hasn't tried.
Queena is still a caring girl. She will actively participate in various volunteer activities. This year, she also participated in the Indian teaching activities. She said that she has been doing volunteer activities since elementary school and has been doing it until now because she enjoys helping others.
Gr.12 – Melissa Yuan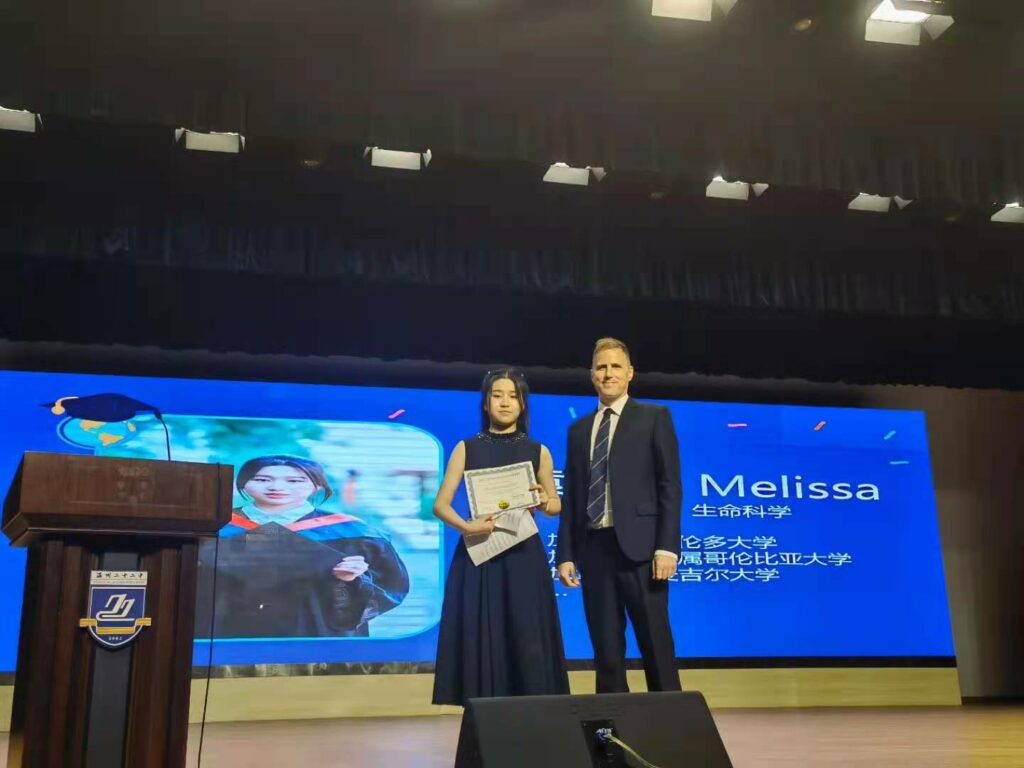 Current Extracurricular Activities:
I visited Wenzhou Special School. Also, participated in the class of special needs children and interacted with them.
Awards and Achievements:
1st place in instrumental music competition of the campus culture and art festival, 2021
1st place in Science Fair in Grade 11, 2020
The school-level outstanding student of first semester of grade 10, 2019
2nd prize of Canadian secondary department in "value of life" Speech competition held by Wenzhou No.22 High School
2nd place in the 3rd Singer Competition held by Canadian Secondary Wenzhou No.22 School.
Leadership Experience:
I was one of the leader in the class. In the House system, I have been the leader of the Yellow House for two years and the leader of the Grey House for one year. I am also the leader of the study department in student union.